Post by ronisan on Jun 15, 2021 7:56:37 GMT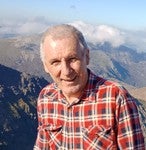 Thanks for your posts, I'll write for Stevie. This really should have been sorted out by the FAQ people in January, perhaps Co-Vid got in the way, I don't know, but we are all using up a lot of time on this.
Here with three points for you to consider (my opinions only, I am new to the forum):
1
Ronald, the bit I have quoted from you is one of four ways (way (d)) an element can sit after moving into contact with its front edge (contacting with a front edge for a group, with a corner for a single element not in bad going (figs 10 and 12c)). It applies when a group of N+1 moves into a group on N elements frontally, all of them making front edge contact and hence legally making contact with a front edge so one of (a) to (d) must happen. N of the elements line up as (a) front edge in contact, the last one slides sideways out of contact into an overlap position (d), this is what (d) is for.
2
Moving into front corner to front corner contact is not moving into contact as established in the FAQ, it does not initiate combat. It is a tactical move, so (a) to (d) don't apply.
3
The d
efinition of overlap on page 10 does not require close combat as a prerequisite as suggest in the quote, in fact the opposite, it says enemies in mutual side contact are in overlap whether in close combat or not. Indeed in the first line it says that left front corner to right front contact with any element constitutes an overlap (stress on any) as long as the element doing the overlapping is not in close combat and this is the way it has been played for years.
IMHO I think that, (unlike 2.2 where it was expressly not allowed), the rules do not stop a move to such an overlap position (flank overlap or front corners contact) as a tactical move. By the way in one of Tony's recent videos where an element could not move straight back in a tactical move because it would come into mutual flank contact with another element shows some of the problems that arise with your interpretation.
Youtube: Book 1 DBA 3.0 - Tony and Mitch Live play! around 40 mins in.
Regards
Chris
Hi Chris,
-> 1 Here you describe a group making front edge contact with the enemy front edge. That's "case a)" ... not d)!
-> 2 Moving into front corner to front corner contact ... you can't do this with a "tactical move" (using PIPs) ... it can only happen by an outcome move!
-> 3 Page 10 explains 1.) corner to corner and 2.) mutual flank edge overlap ... it refers to the
overlapping
element (
not the overlapped!
) -> in the first case the overlap will cease if the element gets into frontal close combat by itself ... in the second the overlap will continue to exist "whether in close combat or not"!
Cheers
Ronald