Post by druzhina on Jun 8, 2016 5:34:08 GMT
The Crucifixion, by Andreas Pavias, Crete, second half of the 15th century
has a wide variety of
Italian, Greek, Ottoman, Tartar, Mamluk and other soldiers and civilians in the crowd
and the
soldiers dividing the clothes
The most heavily armoured men with closed helmets may be Venetians or similar westerners. Others are less well armoured in brigandines buckled at the front or back.
To help reference figures, this image of
the crowd at 'The Crucifixion', by Andreas Pavias
has numbers.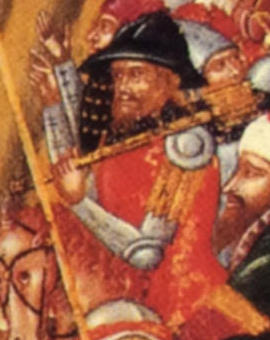 Two armoured men (upper-left [41] and centre [96]) have pteruges at their shoulders. Could these be portraying Greeks?
'Battle of Constantine and Maxentius at Milvian Bridge' by Piero della Francesca, ca. 1466, where Constantine's face is a portrait of John VIII Palaeologus, former Eastern Emperor, has figures with pteruges at both shoulder and waist which may represent Byzantine soldiers
. These also appear on both sides in
'Battle between Heraclius and Chosroes' by Piero della Francesca.
But, similar shoulder protection appears in western manuscripts, e.g.
'Chroniques' by Jean Froissart, copy from Bruges, Belgium, c.1470-1475AD, f.165v, detail of a soldier
. Others dressed similarly without pteruges may be Greek as well, but could be Venetians.
Africans: One horseman on the left [43] is shown as pitch black, the man with sponge [63] and the man on the right hand ladder [128] appear to be African. A prominent figure at right centre [106] has a Mamluk fluffy red zamṭ. A few other zamṭs may be seen in the crowd [97, 75].
The figure that probably represents the centurion [62] has plate leg and arm harness with gauntlets and sabatons and a sallet with a turban around it.
At upper left appears a tartar [53] in a red hat with a split pointed brim. Just to the left of the base of the cross, a horseman [38] wears a hat with a ribbed crown with similarities to the
Byzantine Emperor John VIII Paleologus' hat on a medal by Pisanello
, but here it is given a split brim. He and [94] are probably also tartars.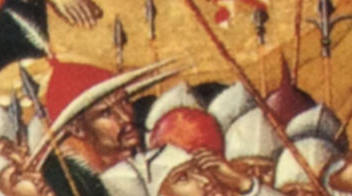 To his right of [53] is a hemispherical red cap with a point [57]. In front and to the left of these is a horseman in a hemispherical white cap with a long point [51]. This type of hat may fit a description by Doukas of Ottoman hemispherical caps with a point a hand-span high, red for Turks and white for the Sultan's servants. Another white cap can be seen at far right [149].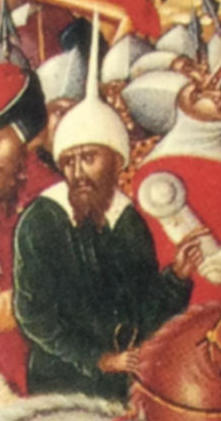 The Sultan's servants included the early Janissaries.
There are some hats with brim turned up at the back and sides and lengthened in front, worn over an arming cap tied under the chin [47, 48, 33, 36, 37 & 92] . There are also a couple of wide brimmed hats worn over an arming cap [87 & 91]. The arming cap would suggest westerners, but some
Greeks in Breydenbach's Peregrinationes in Terram Sanctam, 1486, have arming caps under their hats.
The
manuscript of The pilgrimage of the Knight Arnold von Harff, 1496-1499, has Greeks and Turks in hats over arming caps.
The only arming cap I have spotted in
William Caoursin's Obsidionis Rhodie Urbis Descriptio (A description of the 1480 siege of the city of Rhodes)
is worn by a
Turkish pasha
.
Mirror site:
The Crucifixion, by Andreas Pavias, Crete, second half of the 15th century
Druzhina
15th Century Illustrations of Costume & Soldiers