Post by montyburns on Feb 22, 2017 2:26:33 GMT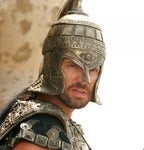 DBA3 Historical opponents

II/19c Seleucid Army (204 BC – 167 BC) add II/2 Mountain Indians (500 BC – 170 BC)
II/19c Seleucid Army (204 BC – 167 BC) add II/3a Classical Indians (500 BC – 178 AD)

II/19d Seleucid Army (166 BC – 64 BC) remove II/2 Mountain Indians (500 BC – 170 BC)
II/19d Seleucid Army (166 BC – 64 BC) remove II/3a Classical Indians (500 BC – 178 AD)


Action:
The re-appearance of II/2 Mountain Indians and II/3a Classical Indians on the II/19d (166 – 64 BC) is clearly an error and should be removed, but does anyone have any information to see these added to the II/19c (204 – 167 BC) sub-list?

Well, I only added II/2 & II/3a Indians to the II/19c Seleucids because I thought that had been given to II/19d instead by mistake, and both II/2 & II/3a Indians do list II/19c Seleucids as enemies. But thinking about it now perhaps they shouldn't be given to either II/19c or II/19d and removed from both II/2 & II/3a Indians.
II/37 Parthia (250 BC – 250 AD) and II/36 Graeco-Bactria (250 BC – 130 BC) would have blocked their path to India.

As we are on the subject of the Seleucids:-

II/19c Seleucid Army (204 BC – 167 BC) to add or not to add...er...II/19c Seleucid Army (204 BC – 167 BC)?
(The lists for II/19b and II/19d allow for internal dynastic civil wars, but II/19c does not.
Was this an unusually stable period for the Seleucids, or is it an omission?
Antiochus IV Epiphanes, king from 175 to 164 BC, was apparently "a strong and energetic ruler", but there were still a lot of palace intrigues, usurpations and murders both before and after him...but then again, perhaps intrigues, usurpations and murders was 'stability' in the Seleucid Empire....)



Some potentially useful player aids can be found here, including the latest FAQ and the Quick Reference Sheets from the Society of Ancients:-
fanaticus-dba.wikia.com/wiki/Category:Reference_sheets_and_epitomes

Antiochus III besieged the Graeco-Bactrian capital from 208-206 BC & continued on into India where he received 150 Elephants from a local ruler. He died on another eastern expedition in 187 BC stoned to death trying to extort money from a temple in a Persian province of the Selucid Empire. Nothing there to say that II/19c should definitely have Indian enemies so while its possible I would be disinclined to add them.