Post by terry37 on Nov 23, 2016 23:01:14 GMT
I have finished the basing for my Red Skull Weird WWII army - a fun army to do with lots of head swaps and conversions. I have to give credit again to Alan Saunders who planted the Weird World War bug in my mind and for the elements I copied from him. Alan was kind enough to help me understand his thought process for the themes behind his armies, and for help with specific questions.
This army was created to specifically fight my Weird WWII US Hollywood army. The theme behind Red Skull's army is one of the biological sciences as opposed to the physical sciences. Ideas , besides those directly from Alan, came from various movies – The Outposts series, The Devil's Rock, Iron Sky, Captain America: The First Avenger, War of the Dead, Dead Snow, and The Keep. The idea for the Terror Bird came from the Weird War comic book that featured the "Bird of Death". The Death's Head Legion and the Werewolf Brigade are taken directly from Alan's Weird WWII German army, and the Panther Lehr is just a play on words for the Panzer Lehr, and which seemed to fit the theme and make for a fun conversion. The Stronghold is not the one I have planned for this army, as I want to use "the Keep", but I'm waiting on a friend with some power tools who can help me converts some castle walls to make it. This bunker I am using until then is my adaption of the fire control bunker used in the movie "The Devil's Rock". It is a 6 MM model and a conversion with the tall upper tower added (it will later become the Stronghold for my Weird WWII Post Apocalyptic German army).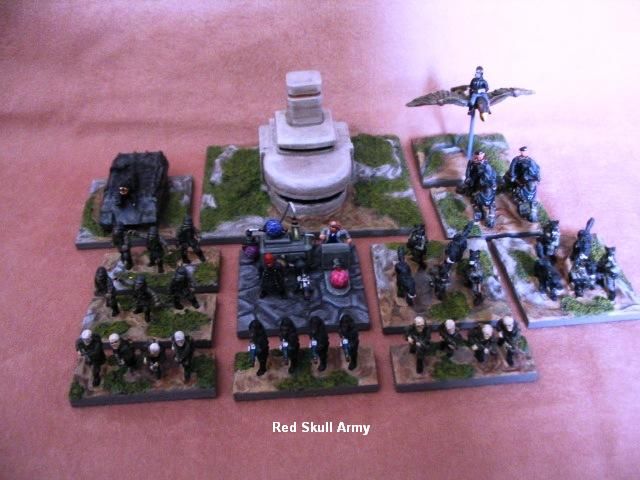 Red Skull's Army.
The Stronghold made from a 6 MM Leven Miniatures bunker model. I really like his models and the service is exceptional.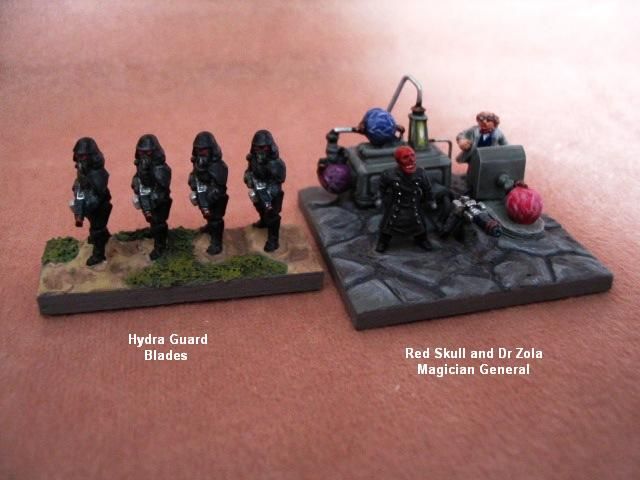 Red Skull, Magician General, in his laboratory with Dr. Zola and the laser gun. The assorted lab equipment was created from assorted bits and pieces I found from various makers and was great fun to do. But installing the power cables after everything was put on the base was more than a little tricky, but they finally worked out.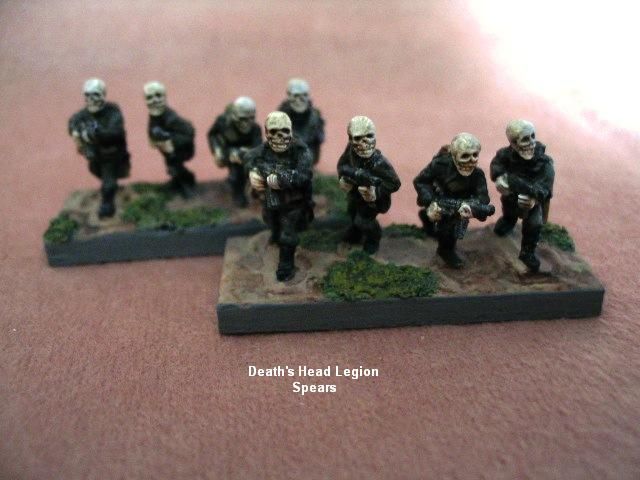 The Death's Head Legion, a copy of Alan Saunders' elements. These are made from Essex and Peter Pig Germans with Peter Pig skulls.