Post by goragrad on Sept 5, 2017 7:06:37 GMT
Having more Han figures than needed for a BBDBA army for either list, I decided to use some for a Three Kingdoms army (I saw that Duncan Head has opined that the most appropriate figures would be Northern and Southern Dynasty, but although I have a number of those as well, the Han are mostly painted and my rationale is that in the period following the collapse of the Han that armor and equipment would not have evolved that much. Besides, many of my Han are older figures based on Greer and therefore moot even for the Han. And on a final note, the Essex Han are equipped in Ch'in armo...).
At any rate, in looking at the Essex pre-made DBA 3.0 army list there is no Three Kingdoms army. There is however a Southern Dynasty army available and the Southern Dynsaty list also has WWgs (two in fact).
Amusingly the Essex list provides these for their WWg -
As I already have those two, I am set for the equipment. Of note in the pre-made Essex list there are not any additional figures to crew the WWg...
I happen to have a pair of the Essex Asian baggage carts and thought at one point of doing something like this for my elements -
However, in looking at the rulebook on WWg elements and in researching on the web (with mixed results) I am thinking this -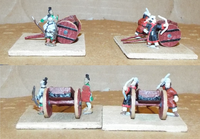 May go ahead and put the mules at the back of the base for amusement and of course I had to get the solid wheeled carts. Although I personally find that that adds to their charm I this deployment. I may also add a few archer/crossbow figures to the bases down the line when I find where I put my Northern and Southern box. One of the sources on line states that these carts had a crew of 27!!!
Has anyone else looked into doing these or actually put some together and have alternative ides as to how to do them?
One final note - a couple of sources note that the use of baggage carts in this fashion started in campaigns against the steppe tribes under the Ch'in - anyone have any thoughts on that?