Post by jim1973 on Feb 12, 2019 22:38:39 GMT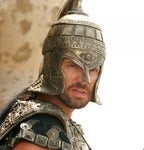 Part two.
In the book,
The Imperial Roman Army
by Yann Le Bohec, the organization and role of the army in the empire well covered, but relavent to this debate are the sections under 'Activities of the Army'' which include training, tactics and strategy.
Under training we find troops honing their skill with their standard issued weapons, but also learned the use of bow, sling and throwing stones. Drills included the change of formation from close order to open order and the reverse so cohorts could quickly adapt to the terrain they moved through or the enemy they fought.
Noteworthy, in
Tacitus – Agricola
, four cohorts of Batavians and two of Tongres were ordered to engage the Britions with sword and shield like legionnaires (p.144, Le Bohec). The passage is long but would certainly add weight to the suggestion of increasing the combat factor from 3 to 4 as a good one.
With good military leaders one can expect a high level of training, ensuring an army's performance and conversely, as the quality of leaders declined, so would the performance of the troops under their command. Regarding increasing the combat factor for auxilia, my own
Middle Imperial Roman
army (II/64) would benefit greatly, but consistantly using them against all barbarian and nomadic tribes their tactics and deployment have greatly improved.
The
Late Imperial Roman
army (II/78) are similar to the Middle Imperial with regard to troop type. They do however, have a significantly higher number of mounted elements. Despite the smaller number of foot troops, the ratio of legion to auxilia remains nearly even.
I do like the increasing the recoil distance of 1BW for auxilia. I would like to see a distinction between the two types and suggest the following:
3Ax
– recoil 1BW
4Ax
– recoil base depth or 1BW, similar to the option given to mounted troops.
Thank
timurilank
. I enjoyed both your posts. My own experience is mostly around the Greco-Persian Wars and Peloponnesian War, where Thracians are the dominant Auxilia force. They don't do well against Spears clearly. The 1BW recoil wouldn't really do much in this setting. I think the concept is to free them from pursuing Blade and Pike. Maybe not allowing Blade and Pike to pursue Auxilia would be a better (easier) solution?
I am going to try a game where 3Ax flees from Spears. This forces the Hoplite player to have to disrupt the line and flank for a kill, potentially open up an opprtunity for the Thracians with a good PIP roll to set on an out of place element. Let you know.
Cheers
Jim